Uxmal is an ancient Maya city in the state of Yucatan in Mexico. In Mayan language the name of this place means "built three times" and it is one of the best preserved ruins in this Mexican state.
This city was one of the most important and a religious center in the Puuc region, which has several Mayan ruins in the state of Yucatan, it is estimated that it had its best period between the 7th and 10th centuries of the modern era, and has a variety of architectural styles of different construction phases.
Uxmal is located about 62 kilometers from Mérida and usually takes several hours to explore in its entirety. There is a small museum, as well as places to eat and souvenir stores. Sunscreen and good walking shoes are recommended.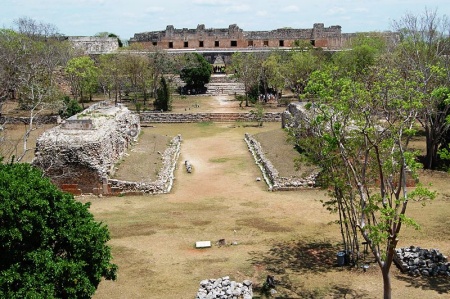 The most impressive building for tourists is the Pyramid of the Soothsayer, which is 35 meters high, and legends say it was built in one night. The truth consists of 5 structures from different eras and was made in a way that its western staircase faces the sun at sunset on the summer solstice.
Tourists can also see a large courtyard behind the soothsayer's pyramid which is the Quadrangle of the Nuns, the ball game court, the governor's palace, the house of the turtles and the great pyramid, among all the wonders that this historic site has to offer.
Cover photo: Pyramid of the soothsayer at Uxmal. By "tato grasso".