The historic center of Mexico City is a central neighborhood of the capital of Mexico that has as its center the Zocalo and extends from there for several blocks to the surrounding area. In this part of the city there are several sites worth visiting full of culture and history, since it was here where the Spaniards began to build the capital of the country.
One site that I recommend you to see in this part of Mexico City, and which is also one of the most striking for its unique design, is the Casa de los Azulejos, which is in the Callejón de la Condesa, between 5 de Mayo and Madero streets. This place was originally built as a palace during the eighteenth century.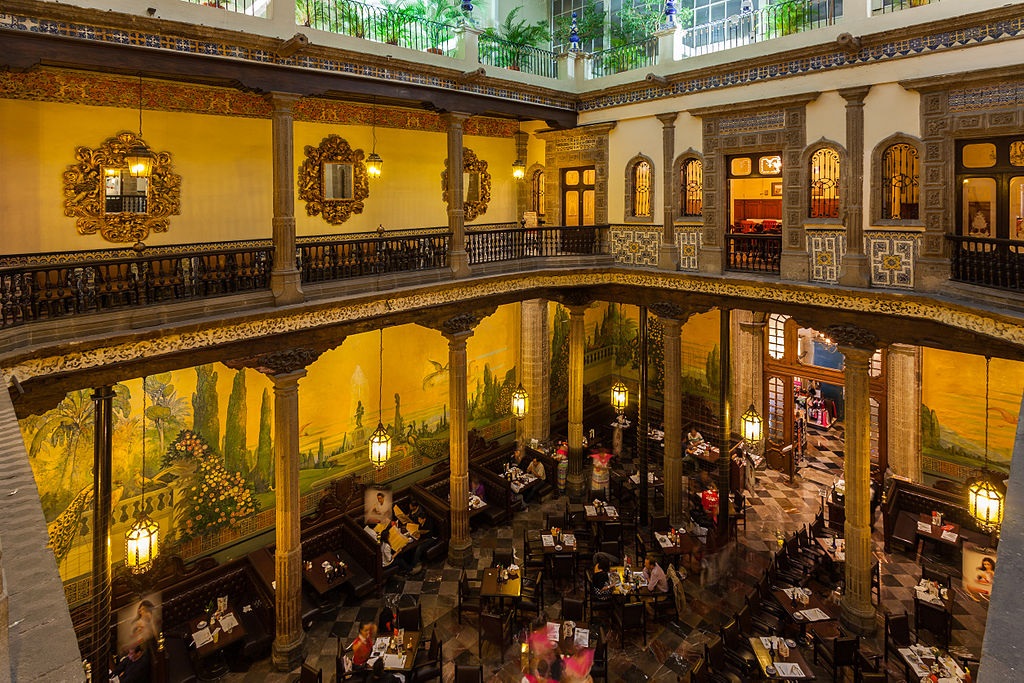 The spectacular house was commissioned by the family of the Count of Valle de Oriza, and you can easily recognize it because three of its facades are completely covered in white and blue tiles that were brought from the state of Puebla. This place was privately owned until the nineteenth century and was eventually bought by the Sanborns brothers to put there one of the most renowned restaurants in the country.
Both the exterior and the interior of the Casa de los Azulejos have a design full of Baroque details, highlighting in its facades not only the tiles but also the balconies and doors that have frames made of carved stone and inlaid with French porcelain, which give it a more exclusive and even royal touch. Inside, the main part is a courtyard in which there is a fountain that is also tiled.
The surroundings of the fountain have tall columns that are also decorated with porcelain from France, and the courtyard is completely covered by stained glass windows that were added during the twentieth century. And also inside the house I advise you to see the two large murals that are its attraction: one that was made by the Romanian painter Pacologue and the other by Jose Clemente Orozco. The best way to visit this place is to go there to eat the delicious typical food in an incomparable atmosphere.
CC. Photos by ProtoplasmaKid, Diego Delso, Rotatebot, 53Kevin, Chang'r, Centpacrr.